Good Morning Everyone! Welcome to Challenge #14 "Bling It Up"! Wow... It is the beginning of December already, where did the time go? Do you have all of cards, creative holiday projects, decorating, and baking done? Everyone at Paper Creations Ink is still working hard at all of these stressful wonderful tasks! LOL! We hope this challenge will help you out with some of those last minute projects that you need to get finished! Just a quick reminder, you are only limited by your imagination! You can use any image for this challenge! We would LOVE to see all types of creations, whether it is a Card, Scrapbook Page, Fat Page, Tag, ATC (Artist Trading Card), Box, Bag, 3D ~ Altered Art, or Other Crafting Projects that has some form of paper on it!


All of our Design Team's inspiration is listed above, along with Inlinkz. This challenge will run until Sunday, December 18, 2011 at 6pm CST. Please be sure to check the challenge tab for ALL the guidelines that we have set for our challenges! And for an added bonus, we will be looking for some creative talent to add as our Guest Design Team and works of art to be Spotlighted! So be ready, just in case you are picked!
Our Sponsor for this challenge is our very own MIRANDA VAN DEN BOSCH. Miranda has drawn 3 wonderful fairy images for Paper Creations Ink! These beautiful images that the Design Team has created with are going to be given away as our prize for this challenge. Please see the slide show above for these amazing images.
Isn't that an awesome prize for one lucky person? We hope that you like our creations!
Now here is a some information about Miranda!
My name is Miranda van den Bosch and I'm 46 years old. I have been drawing nearly all my life. At the age of 4 I was making drawings on a blackboard, but because my parents thought it was a pity that I had to erase all my drawings they got me paper and colour pencils. And I've never stopped drawing since. When I was little I used to draw portraits and Disney characters. After that I started to draw fairies and dragons. In time, I joined an art group and learned to draw nudes and still life portraits too. When I was in my 30ties I became interested in birds and started to draw them as well. And last year I published my first children's book. It's an ABC of birds and 26 birds tell you about birdlife in general. A good friend of mine wrote the text. About 2 years ago, I discovered card making and how I could use stamps with my colouring technique and style. I really enjoy colouring up all the cute images with watercolour or with regular colour pencils. Every week I discover new brands of stamps and I just decided to draw some digi stamps to see if other people liked them. A new world of being creative is opening up for me.
Our MONTHLY sponsor is
Crop Stop
! We are so excited to share with you the wonderful prize that Crop Stop has offered to ONE lucky winner, a $30.00 gift certificate to their online store! How cool is that? In order to be eligible for this wonderful prize, you must enter BOTH December Challenges to win! (We wanted to extend a HUGE "THANK YOU" to Haylie-Jo owner of Crop Stop!)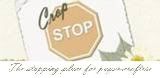 Now for some information about our MONTHLY sponsor
Crop Stop
!
If you're passionate about scrapbooking your memories or making cards, CropStop is your one-stop solution. We offer an extensive selection of dies, embossing folders, stamps and punches by all the popular manufacturers and the CropStop die and embossing folder storage solutions Pocketz Pages™ to keep everything organized. Our selection of embellishments and adhesives is continually expanding and we are excited to be the home of the colorful Ribbon Candy™.
We know you need to stretch your crafting dollars, so visit our newest store addition – the Bargain Basement! There's always something on sale at CropStop.
In need of inspiration? Visit the CropStop Gallery, Blog or Message Board and participate in a competition or class. If you have questions concerning your machine, we have a team of experts waiting to help you. And be sure to check out YouTube for the latest CropStop videos.
CropStop ships internationally as well as domestic. Our personalized customer service is only one of our strengths. Come visit us at www.CropStop.com and see what's new in the world of scrapbooking.
As always thanks for stopping by, if you have any questions feel free to leave us a message with a way to contact you (email or blog address)!
Have a wonderfully creative two weeks!